Tam Otomatik Karo Kalibre ve Cila Makinasi 
IMSCM103 Tam Otomatik 1+3 Karo Cila Makinasi -Mermer Cila Makinasi ( Karo Mermer Eskitme, Mozaik Karo Temizleme Makinasi)
The machine controlled by a PLC system and LCD touchable screen. This system controls subsequently rising and lowering of the heads, the heads rising automatically when no material is feeding the machine.
Our machines are designed and prepared with the last engineering techniques after long studies. With our 35 yeared experience, marble calibre and polishing progress is rapid,quality and economic qualitative in the structure.
Main Body is made from steel material and designed with high resistance
Belt toddle tray and bridge connections are become sooty with touchy after all welding processes.
Abrasive head bodies are manufactured with iron cast.
Pistons which work on the bodies are covered. Besides they are kept safe with furnished tire
Those heads steps on the surface of the rock with maximum movement ability and provides fine polishing procedure thanks to a system which is independent from each other.
Electricity system is located on the machine, according as the customers desire, siemens or telemecanique brand can be choiced.
Calibre chassis is manufactured from steel material and processed with sensitiveness, with this way you'll be provided vibrationless working ambient ( atmosphere).
The protective hatches material which is used for opening and closing , was used from 304 quality chrome nickel.
After boiling the diamonds on calibre heads, their balance are taken and put like that.
All bolts which are used on the machine are inox rustproof.
Our machines are painted with water-resisted paint.
Every kind of machines which we make in this category are full automatic, LCD Operator paneled and PLC systemed. In electric problems or running out of stone problems or stones being less occasions, the machine makes the problemed part stop, it warns the user and starts working by its own when it gets ready to work. All the procedure as Calibration, polishing, washing and drying is fully materialized by the machine.

---
Makina PLC sistemi ile otomasyonlu olup LCD dokunmatik panel ile kumanda edilir. Bu sistem sayesinde makinaya giren islenecek malzemeye gore cila ve kalibre kafalari otomatik olarak devreye girer, malzeme girisi durdugunda ise kafalar otomatik olarak yukari kalkar ve yeni malzeme girisini bekler.
Makinalarimiz muhendislerimizin uzun calismalari sonucu en son teknoloji ile tasarlanmistir.. 35 yillik tecrubemiz ile , mermer kalibre ve parlatma işi hızlı, kaliteli ve ekonomik nitelik kazanmistir.
Ana govde yuksek mukavemetli çelik yapıdan imal edilmistir.
Kaynak islemleri sonrasinda tum yuzeyler hassas bir sekilde islenmistir.
Zımpara, cila kafa organları demir döküm ile imal edilmektedir.
Pistonlarin calisan kısımlari korumaya alinmistir. ayrica körük lastisi dedigimiz ikinci bir korumasi vardir.
azami hareket yeteneği ile taş yüzeyinde birbirinden bagimsiz hareket eden cila kafalari en iyi cila kabiliyetini ortaya koyar.
Elektrik sistemi, müşterilerin istediği gibi, siemens veya telemecanique marka tercih edilebilir.
Calibre şasi çelik malzemeden imal edilip çalışma sarsıntısız temin olacak şekilde, duyarlılık ile işlenir.
açma ve kapama için kullanılan koruyucu kapaklar da malzeme, 304 kalite krom nikel kullanılir.
kalibre başlarına elmas kaynattıktan sonra, tum balanslari alinir.
Makinede kullanılan tüm cıvata inox paslanmazdir.
Makinelerimiz suya direncli boya ile boyanmıştır.
Bu kategoride yapilan makinelerin tamami otomatik, LCD Operatör panelli ve PLC sistemlidir . Elektrik problemlerinde ya da herhangi bir harici sorunla olusan tas kirilmasi gibi problemlerde olasi bayat taslarin cabuk bitmesi gibi durumlarda sıkıntı hangi calisan kafada ise o kafa calismayi durdurur, yukari kalkar arizanin giderilmesini veya taslarinin giderilmesini bekler. Bu arada makina sesli ve goruntulu ariza uyarilarini verir LCD panelde sıkıntılı olan kafaya ait hata mesaji verir. Tum bu isllemler devam ederken makinada diger fonksiyonlar calismaya devam eder.
---
MODEL
IMSCM 103
Useful working width (cm) :45
Max number of spindles (no) :3
Number Of Abrasive Heads :1
Max working thickness (cm) : 5
Max Beam travel speed (m/min) : 0-40
Max belt speed (mt/min) :0-3,5
Power polishing head (kw): 5,5 (7.5 HP)
Power of Calibrating motor (kw) :11 (15 HP)
Belt Motor Power (kw) :1,5
Electric consuption (kw) : 26
Weight (kg) : 3.250
Lenght (cm ) : 370
Width (cm) : 110
Height (cm ) : 240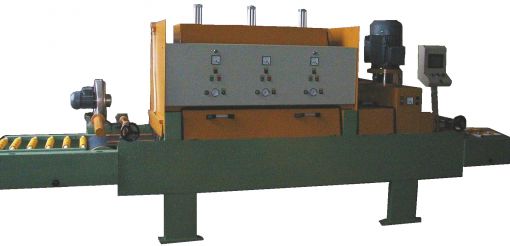 ---
MODEL
IMSCM 206
Useful working width (cm): 50
Max number of spindles (no) : 2
Number Of Abrasive Heads : 6
Max working thickness (cm) :8
Max Beam travel speed (m/min) :0-40
Max belt speed (mt/min) :0-3,5
Power polishing head (kw) : 5,5
Power of Calibrating motor (kw) : 11
Belt Motor Power (kw) :1,5
Electric consuption (kw) : 58,5
Weight (kg) : 6.000
Lenght (cm ) : 760
Width (cm) : 125
Height (cm ) : 210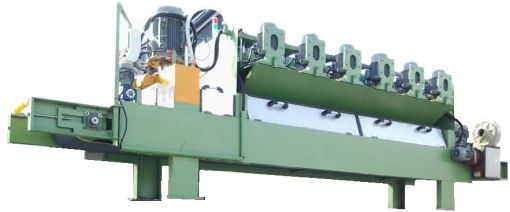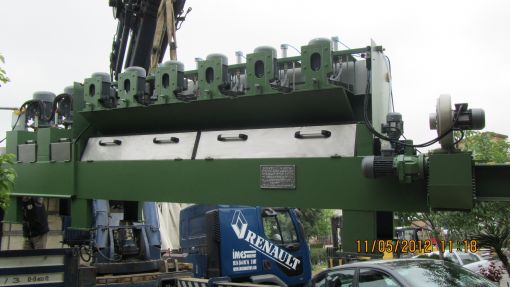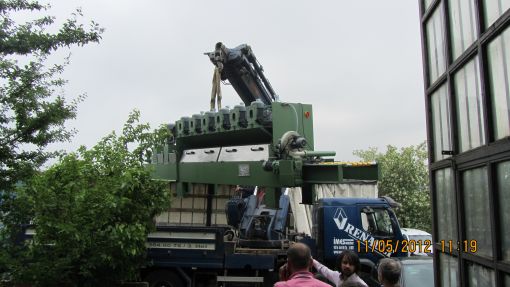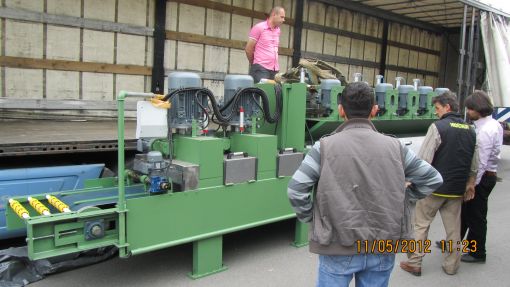 ---
IMSCM312 Tam Otomatik 3+12 Karo Mermer Kalibre, Cila ve Eskitme Makinasi